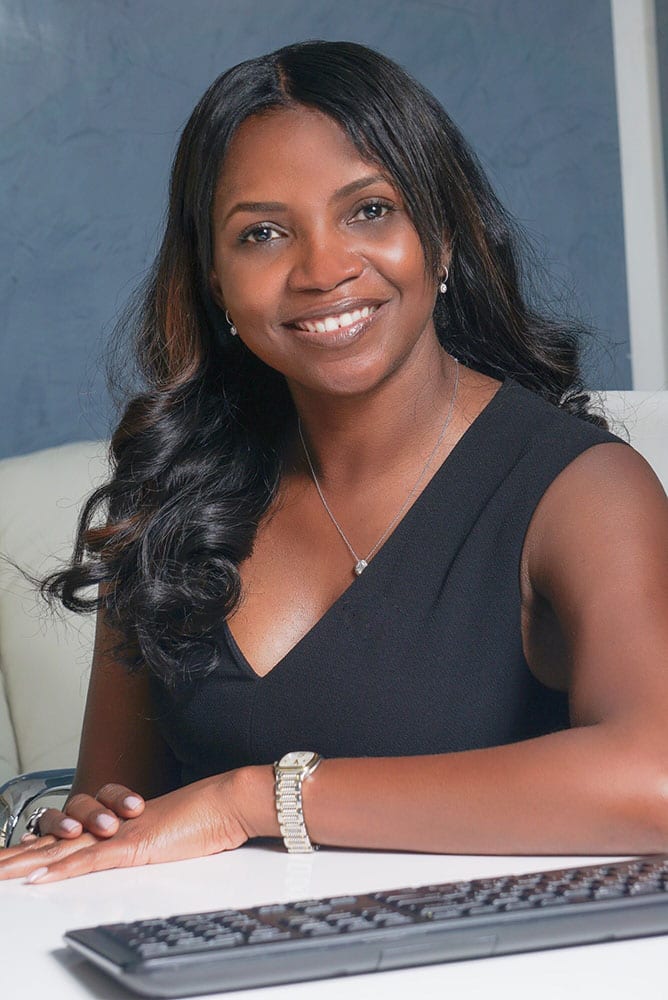 Board Certified Obstetrician/Gynecologist
Dr. Shrusan Gray is a Board-Certified Obstetrician and Gynecologist, licensed by the State of Florida and New York and is an award-winning physician with an outstanding Ivy League education with extensive experience in her field. She is the co-founder and owner of Women to Women OB/GYN in Hollywood, Florida. A graduate of the University of Pennsylvania and Case Western Reserve University School of Medicine, Dr. Gray has been practicing medicine for over 15 years. She is affiliated with several South Florida hospitals, including Memorial Hospital West and Memorial Regional Hospital.

A young Shrusan Gray first realized that she wanted to work in female-centered medicine as a child in the Caribbean. There, she not only witnessed, but assisted, her aunt, who was a midwife, in many home births. Some of these deliveries were unsafe and complicated. Today, she practices with a collaborative approach, helping to guide and educate women about the best choices for their health. She is highly skilled in all areas of obstetrics and gynecology and is adept at handling routine care and complicated issues requiring surgery and long-term care.


A young Shrusan Gray first realized that she wanted to work in female-centered medicine as a child in the Caribbean.
---
OUR WOMEN'S HEALTH CENTER
Upon arrival at our women's health center, you'll quickly notice the lengths we go to make our patients feel comfortable. You'll notice that our waiting room is more like a living room decorated with impeccable taste in design. We believe that making patients comfortable starts as soon as they walk through the door. And whether you book an appointment for an ultrasound or any other service we offer, you'll be made to feel cared for and as comfortable as we possibly can. We know just how discomforting a gynecology appointment can be, and we want to do our best to diminish your anxieties.
Our office is designed to accommodate women's health needs and is done so with privacy and discretion in mind. Another great benefit we offer our patients is the ability to collect lap specimens and results on site. Not only does this save time, but it helps with peace of mind. We also offer our patients peace of mind by securely storing all information. You can rest assured that your identity and results will be safe in our hands.
Not only can you trust that we care for women's health, but we care about being a quality source for obstetrics and gynecology. Making sure that all patients feel comfortable requires listening, empathy, and attentive care, and when you book your obstetrics and gynecology appointment with our practice, you can rest assured you will be getting all of that and more. Put your women's health in the right hands and trust the OB-GYNs at Women to Women.
Services Offered:
Obstetrics
Normal to High-Risk Pregnancies
Perinatal and Genetic Counseling
Infertility Work-up and Management
Ultrasonography
Hysterosalpingogram (HSG)
Gynecology
Complete Gynecological care
Adolescent Gynecological Care
Incontinence Therapy
Treatment of Breast Diseases
Contraception Management
Sterilization Services
Surgical management of gynecological diseases
Mona Lisa Touch
To Improve Vaginal Hydration
Reduce Painful Intercourse
Improve Urinary Incontinence
Improve Vaginal Laxity
Contact Information:
Location: 3990 Sheridan Street, Suite 201
Hollywood, FL 33021
Phone: 954-505-4458
Email: info@women2womenobgyn.com
gray.maslyak@women2womenobgyn.com
Please call the office or go online to schedule an appointment. Most insurance plans are accepted.