My name is Sydney Eugene. I was born and raised in Naples, Florida. I took this trip in March of last year, 2021, and I flew directly to Cap-Haitien, Haiti. I stayed at the Vue apartments in Cap-Haitien on the mountain with an incredible beach view. I was there for only three days. I was able to tour The Citadelle Laferrière.
The pictures of me on the horse going up the mountain towards the Citadelle happened just before the kids were getting out of school, so my family and I talked to them a little bit. They were so fun and happy.
My favorite experience during my visit was touring the Citadelle. It is a must because the tour guides really explain the history and the hard work that was put in to build it and how smart the Haitians were. They do not get enough credit and praise compared to many other builders of their time.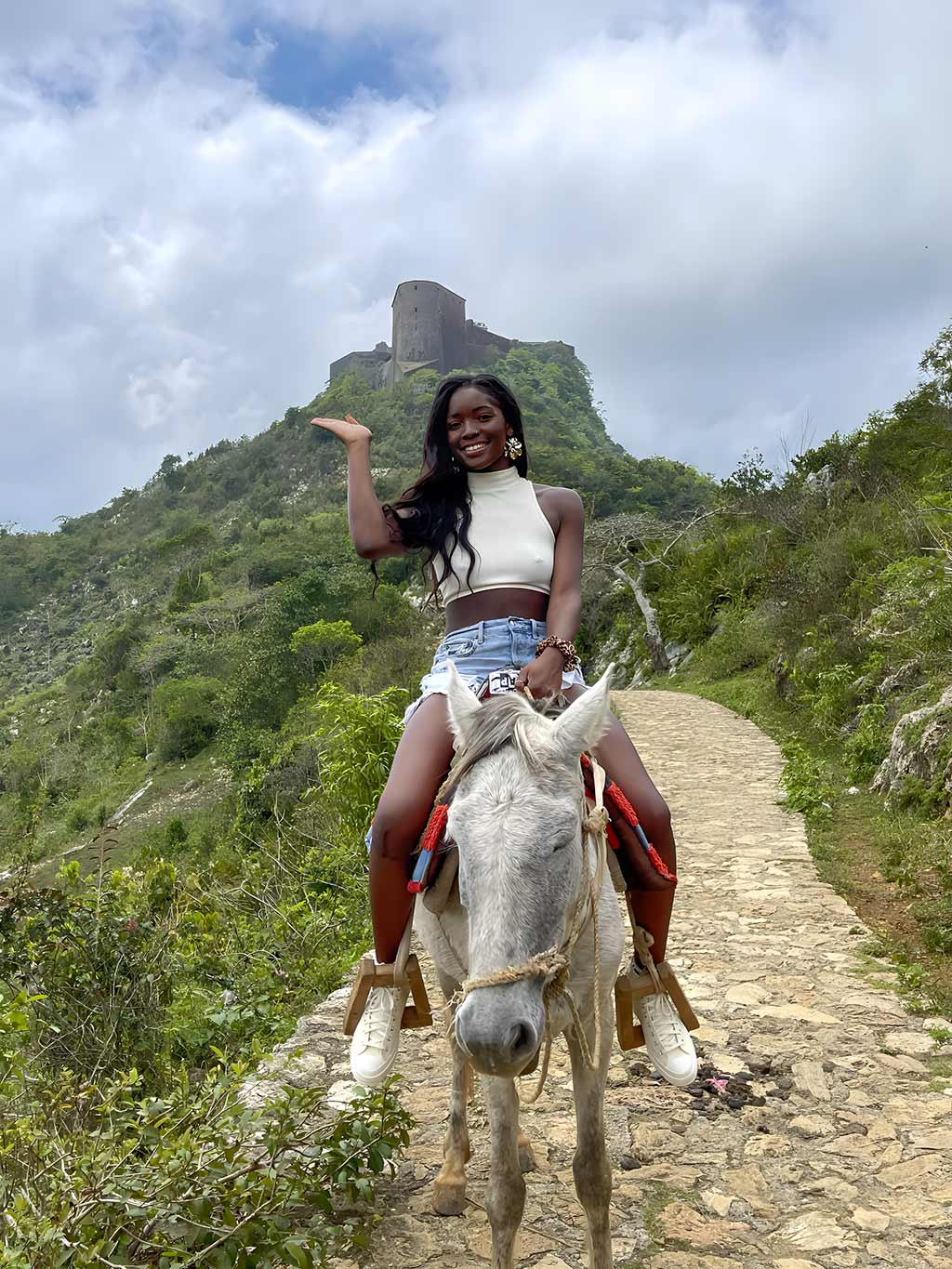 The view from the Citadelle is simply amazing and breathtaking. I am Haitian, and my family usually visits Haiti a couple of times a year, but this was my first experience there.
I was happy to speak Creole and watch everyone laugh at me because they said that I sounded too American. It was simply the best experience. The tour guides were so sweet and personable. We also took a boat to a private beach, and it was just lovely. The water was so blue, and the weather was perfect. We ate at the restaurants Lakay and Le Boukanye, and the food was great. Haitian food has so much flavor, and it is delicious. We ate "tasso" fried goat, "griot" fried pork, rice and beans, "banan peze" fried plantain, fried fish, and soup, and drank lots of Prestige, a Haitian beer.
Haiti is a beautiful country with amazing food and culture. It is a great experience to be there and eat local fresh foods. There were great souvenirs to take home because most of the items are handmade, so I was able to get some wooden shot glasses and bracelets. I would like to visit again for a longer period.