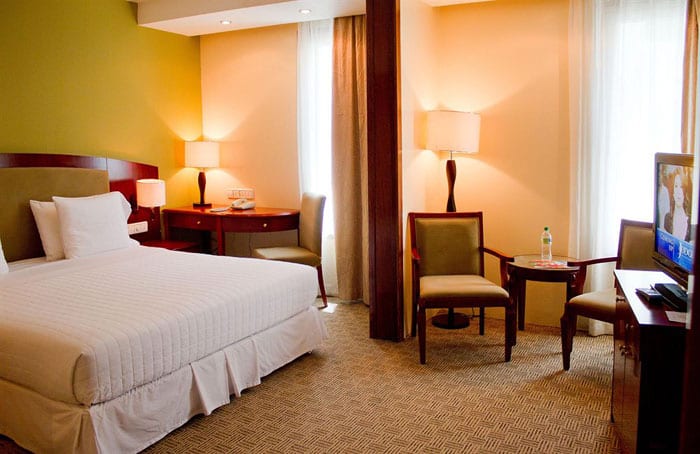 Servotel
#3 of 20 Hotels in Port-au-Prince, Haiti based on TripAdvisor Ratings
By Shannon Bullman
Travelers need a hearty dose of comfort every now and then, and a stay in a quality hotel can be just what they're looking for. If you're the kind of traveler who likes to treat yourself to a comfy home base in between exploring and wandering, here are a few reasons why you should consider a stay at the Servotel in Haiti.
The Building
The first para-seismic steel building in all of Haiti, the Servotel is an interesting work of architecture and an example of Haitian innovation. It has been certified and designed by Myamoto International Structural and Earthquake Engineers, so it will be safe if another disastrous earthquake strikes the nation.
The first para-seismic steel building in all of Haiti… an example of Haitian innovation.
The Rooms
From single rooms to double suites, the rooms feel as cozy as home. Enjoy the fast internet, multiple television channels, a room bar, 24-hour room service, and a safe deposit box to keep your personal items secure.
The Amenities
Keep yourself feeling slim and healthy by using the hotel gym. It's fully equipped for cardio workouts, weightlifting and muscle training. If swimming is more your style, do some laps in the pool, or just wade around and enjoy the cool, refreshing water on a hot Haitian day.
The Restaurant
You won't even have to leave the hotel to get a fantastic meal during your stay. The cuisine is diverse and can be enjoyed daily from 6am until 10pm. The atmosphere is casual, and meals are either buffet or a la carte style. There's even a cocktail bar if you feel like unwinding or socializing with other guests.
Facilities For Events and Meetings
If you have an event or meeting on the agenda, consider hosting it at the Servotel. As a meeting location, the Servotel is efficient, spacious and well-equipped.
Address: Route de l'Aéroport, Zone Cargo, Tabarre
+509 28 12 75 00