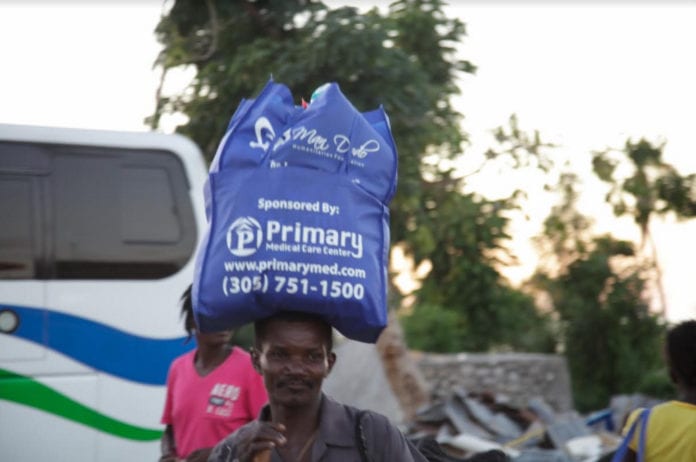 According to the UN, 1.4 million Haitians were affected by Hurricane Matthew. At least 1000 people died. Today, approximately 175,000 internally displaced people live in 307 temporary shelters.
In the major populated regions that were hit hard, Hurricane Matthew leveled 80% of the buildings, stripped away vegetation and uprooted trees. It was clear that Haiti, the Haitian government, its support system and the international community were woefully unprepared for a disaster on this scale. It was another testament to how far Haiti lags behind the rest of the world in terms of infrastructure and how long the country has been ignored by the international community.
This article highlights how Primary Medical Care Center, a medical clinic serving the Haitian community in South Florida, helped the victims in Haiti during this disaster.
Collaboration with the Man Dodo Foundation
Primary Care partnered with the non-profit organization Man Dodo Humanitarian Foundation and contributed not only financially but also provided medical supplies, food and clothing to support their efforts in responding to the need of the people affected in the South of Haiti, particularly, Port Salut, one of the most damaged areas by Hurricane Matthew. Furthermore, Primary Care didn't just stop there, its staff also contributed to the 11th Annual Man Dodo Medical Mission and Toy Distribution held in December 8th – 12th, 2016 where close to 3000 children were fed and each one received a toy. Primary Care played an important role in bringing a smile and hope to the faces of so many children.
Working with IslandTV
Primary Care collaborated with Island TV to further help the victims of Hurricane Matthew in other cities such as Les Cayes with the distribution of clothes, food and supplies. The people living in this city were already living in dire conditions and Hurricane Matthew worsens their situation. During the 2016 holiday season, Primary Care staff also supported Island TV's toy drive and made the distribution of toys to 500 children in Jacmel possible. Its staff takes pride in supporting organizations that are working diligently to help alleviate the living conditions of the less fortunate families living in the South of Haiti.
Mother's Day Event
Primary Care also wants to have a strong presence in the local Haitian community and in addition to its Hurricane Matthew relief efforts; it held the 3rd Annual Mother's Day Event which goal was to celebrate mothers and make them feel love and appreciated on their special day. The event was a great success; it featured great performances from different singers and artists from different churches. 1200 people attended and enjoyed the soiree of entertainment, delicious food and give away prized that made the event more memorable.
About Primary Medical Care Center
Primary Medical Care Center is a local clinic in South Florida serving the Haitian community and other nearby ethnic groups. Its main objective is to provide immediate medical attention to all. The center professional, caring and well skilled staff always make the patients feel welcome and comfortable. It offers a wide range of services including family medicine, home health services, primary Rx, a rehab center, adults and children (age 7 and older. Furthermore, it offers services such as specialist referrals, prescription refills, health promotion and disease prevention and educates their patients on disease management. Additional services coming soon: silver sneakers, dental and optometry.
Address: 11500 NW 7th Ave, Miami, FL 33168 | Dade: (305) 751-1500 / Broward: 954-289-1111 | Website: PrimaryMed.com