Written by Alex Popa
Sandy Saint-Hilaire was born in a family overflowing with artistic talent. Her mother is a singer, her father plays the guitar, and her siblings write poetry, sing, play the piano, or do graphic design. Needless to say, Sandy becoming a painter was no surprise. When her elementary teacher noticed she had talent, she had young Sandy audition for the Magnet program of Norland Middle School.
That's where she learned most of the techniques that she uses today. At the time of writing this article, Sandy Saint-Hilaire is an accomplished painter with dozens of finished paintings.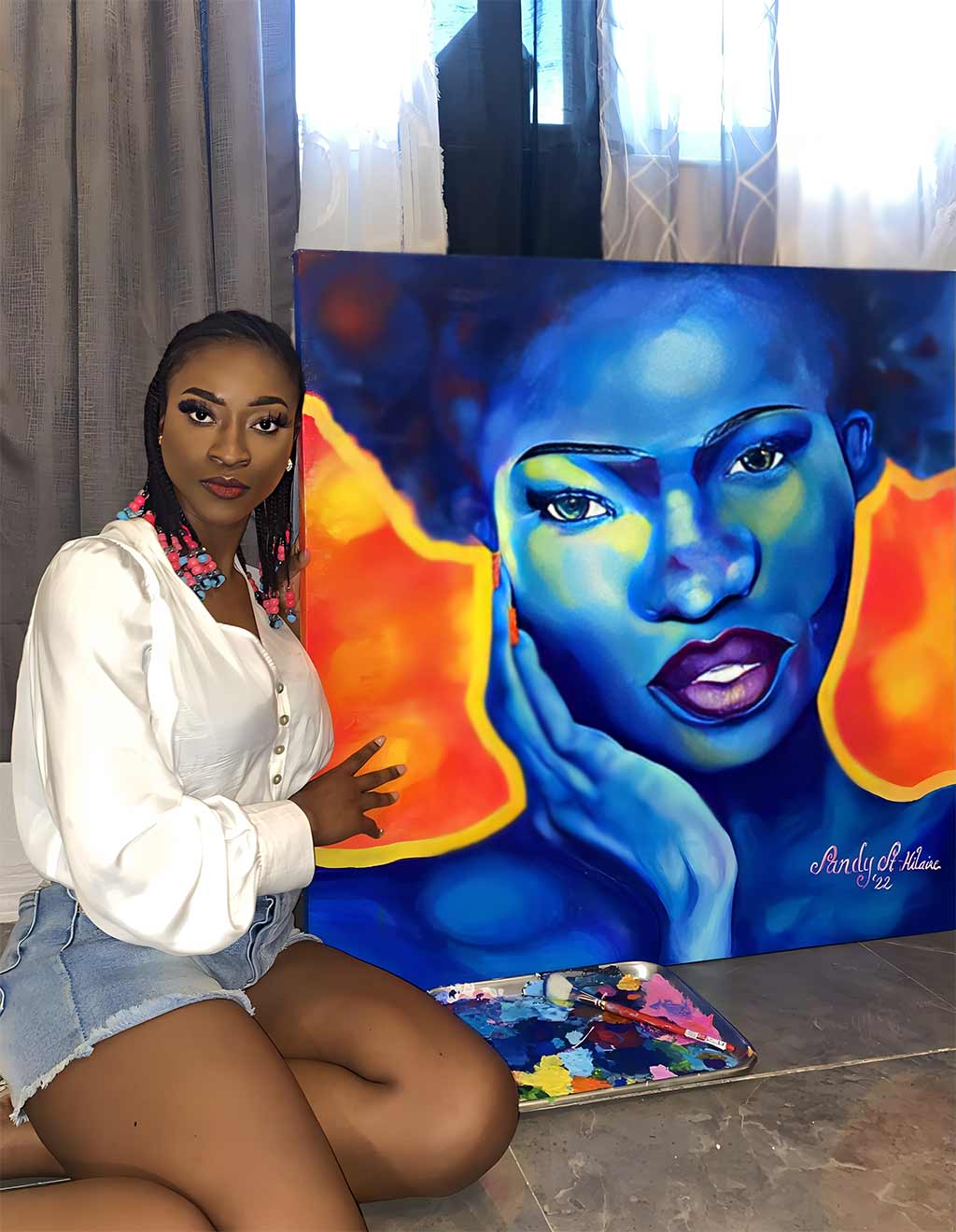 From fairytale characters to strong historical leaders and emotional ideas put to color, Sandy has a rich portfolio that she says results from her "inner child, that quiet girl who turned into an observant adult as the years went by."
What is Her Inspiration?
In her own words, she's inspired "by the times and how I feel. My most recent works are inspired by black poets like Ntozake Shane and Gill Scott-Heron." She says that reality and emotional purity are very impactful as far as inspiration goes. Realism appeals most to her, though she indulges in more spontaneous painting from time to time.
Her emotions give birth to a plethora of artistic creations, and she humanizes herself as much as possible. Freedom of expression and emotion are necessary tools of the trade for a painter, and this remains true for Sandy Saint-Hilaire too. When asked about the process of painting, Sandy simply replies, "I just let myself feel. That's all it is."
In her view, being a painter is all about conveying a multitude of ideas without uttering a single word. The colors themselves express so many thoughts in the space of a few seconds when someone admires the painting.
What Does the Future Hold for Sandy Saint-Hilaire?
Sandy confesses that she wants to go on a journey of self-exploration and introspection. Even though she finds scuba-diving a productive source of inspiration, her inner child is still the most proactive creativity source. She wants to get more in touch with herself and with her passions.
The ocean has a certain beauty and profundity that have always attracted her. She feels free and connected to the endlessness that is the ocean, which also led to her Siren painting. Overall, she wants to improve herself on all levels and evolve as a person and as a painter!
Contact:
Website: tableaublue.com
IG: instagram.com/sasacheeksart