Written by Jenny Estinville
Her fiery personality is undeniable. It glares in her cooking videos, advocacy for Haitian culture, and fashion style plastered all over her social media. A private chef and published
author, Chef Cynthia Verna is a highly sought-after pillar in the Haitian cuisine world. She has traveled all around the world from Asia to Europe, teaching in some of the most illustrious universities and bringing awareness to Haitian culture through Haitian dishes. It is no wonder that she would be selected by the Food Network to teach Ludacris, a highly decorated actor,
rapper, and TV personality, in his hit TV show, "Luda Can't Cook."
The accomplished chef and educator granted Haiti Open an opportunity to explore her experience teaching Ludacris about Haitian dishes.
When did you find out you would be cooking with Ludacris?
I found out about three months ago, after I was contacted on Instagram.
Did you watch "Luda Can't Cook" before you took part in it?
No. To be honest, I spend more time invested in my cooking, spiritual faith, reading, and meditating. So, I am not much of a TV person.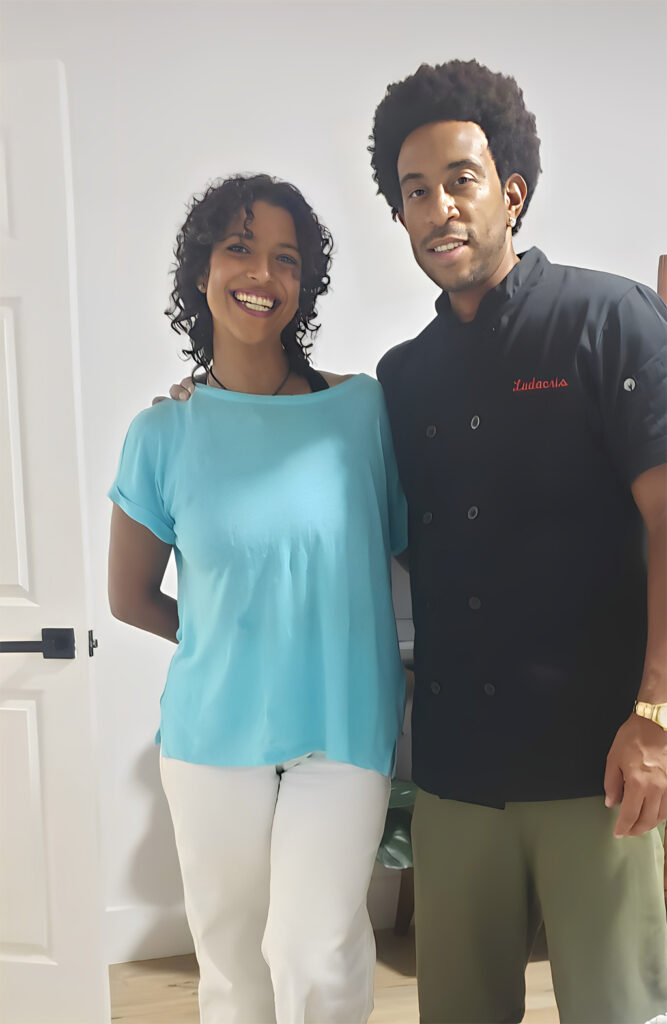 I went in with the goal of teaching Ludacris the magic of the Haitian dish, "epis."
What did you do the day before to prepare?
Apart from praying, I didn't get to do that much preparation. I was mourning the loss of my stepmother and was staying at a hotel while getting some work done at my house in West Palm Beach. Anyways, my goal was to put Haiti on a pedestal no matter what, and God strengthened me to do just that.
What were some of the dishes you helped Ludacris learn how to make?
I went in with the goal of teaching Ludacris the magic of the Haitian dish, "epis." I educated him on the history of epis and its significance to Haitians. A little fun fact—the "pilon" that you see Ludacris use is one I brought myself. It is very old and was handmade in my family community in Haiti.
Which dish did Ludacris enjoy the most?
When I personally asked him what his favorite dish was, he said he loved the fried fish from Sakpase Foodtruck.
Which dish did Ludacris have a hard time figuring out?
I didn't have a chance to ask him about that, so I can't really speak for him in that regard.
How was the reception when your fans found out you would be on the show?
Truthfully, I didn't try to find out. Whether there was applause or not, my sole focus was to represent my Haitian brothers and sisters in a positive light.
It's every chef's dream to be on the Food Network, and you're about to be featured with one of the biggest stars while promoting your native cuisine. What does that feel like?
God is a God who starts and will finish his work. The Food Network is just the beginning, so get ready.
What's next for Chef Thia?
I'd rather show you than tell you. So stay tuned!
Contact:
Website: chefthia.com
IG: instagram.com/chefthia