Written by Saradjine Batrony
Meet Alain Lemaire, a young Haitian-American "Chef Extraordinaire" whose Haitian flavorful cuisine gained wide recognition from around the world! Chef Lemaire brings a full-fledged taste of the Caribbean and Latin flavors, bringing people of all cultural backgrounds together. Each dish prepared by Chef Lemaire has the potential to tickle one's taste buds and make them reel in absolute delight. His love affair with the kitchen gave him the impetus to climb the culinary ladder in less than two decades to be amongst the top 10 Haitian Chefs.
"Food is #1"
Chef Lemaire makes no apologies for making "food #1." His passion for food is also shared by widely acclaimed actor, rapper, and entrepreneur Ludacris, born Christopher Brian Bridges, who invited him to join him on his TV show, "Luda Can't Cook."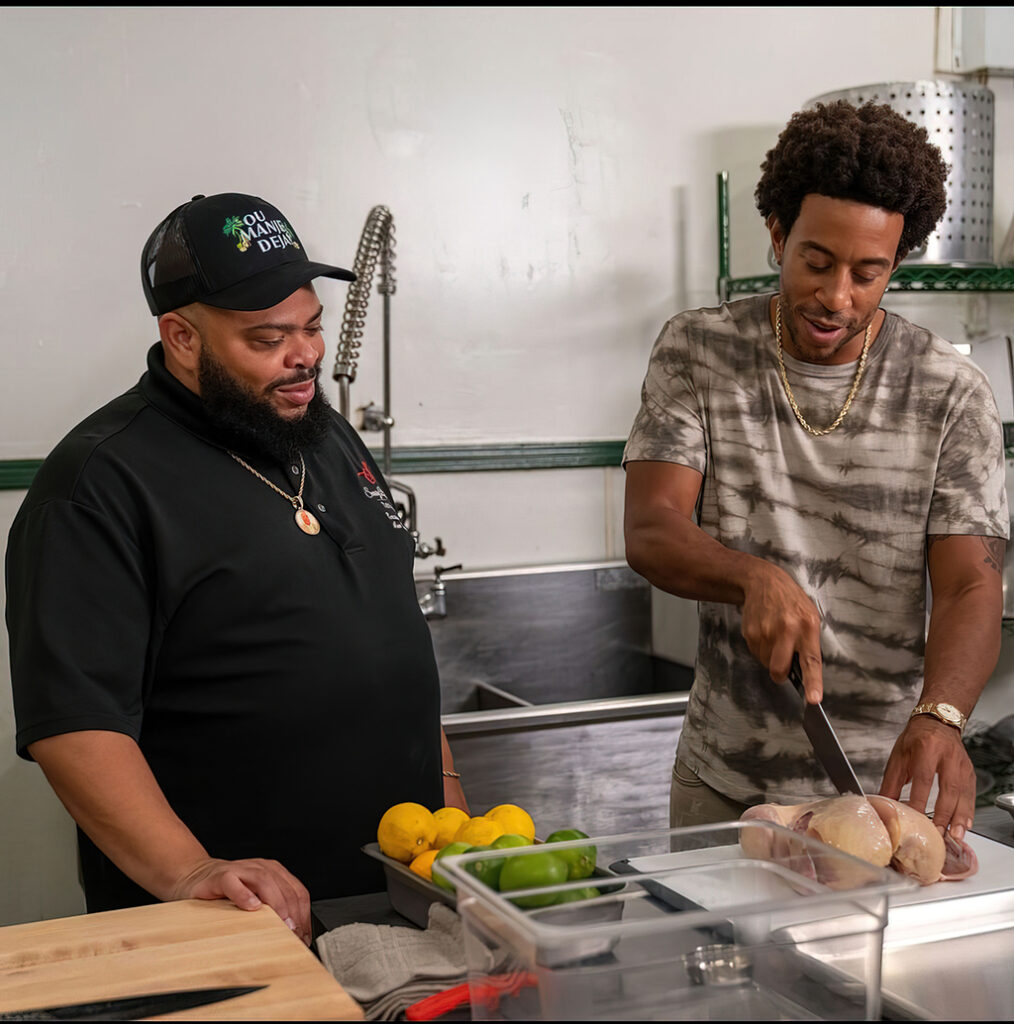 Q & A
Haiti Open: When did you find out you would be cooking with Ludacris?
Chef Lemaire: An agent from "Luda Can't Cook" contacted me. I ended up being selected as the Haitian chef who would be on the set.
Haiti Open: Had you watched Luda Can't Cook before you took part in it?
Chef Lemaire: I was sent a link to view since I was not too familiar with the format. The concept was clear, and I was completely committed.
Haiti Open: What did you do the day before to prepare?
Chef Lemaire: Mental preparation was key to discussing specific topics and conveying ideas we wanted to communicate on the show.
Haiti Open: What were some of the dishes you helped Ludacris learn how to make?
Chef Lemaire: I first assessed his skills in cooking chicken, then taught him one of my favorite Haitian dishes.
Haiti Open: Which dish did Ludacris enjoy the most?
Chef Lemaire: He enjoyed every Haitian dish, but mostly our traditional soup, Joumou, (pumpkin soup) and seafood.
Haiti Open: Which dish did Ludacris have a hard time figuring out?
Chef Lemaire: He's very bad at cooking chicken. So, his struggle with any chicken dish was quite obvious.
Haiti Open: How did your fans react to the news that you would be featured on the show?
Chef Lemaire: Countless posts and re-posts on all of their social media platforms.
Haiti Open: It's every chef's dream to be on the Food Network, and you're about to be featured with one of the biggest stars while promoting your native cuisine. What does that feel like?
Chef Lemaire: I am proud to showcase my native Haitian cuisine on this huge platform.
Haiti Open: What's next for Chef Lemaire?
Chef Lemaire: Continuous efforts promoting our cuisine internationally through avenues such as pop-up dinners hosted in several states and a strong presence on TV and social media. The robust branding of "Ou Manje Deja" ensures worldwide recognition of our fresh, bold, in-your-face, and delicious cuisine.
Contact:
Website: cheflemaire.com
IG: instagram.com/cheflemaire