By Alex Popa
Claudette St. Clair Andrini is a unique presence both as a performer and a woman. Her main stage is the circus, where she gets to exhibit her amazing talents and abilities, but she strives to succeed on life's stage as well. Being born in the Bronx, NY, and living in Pittsburgh, PA, it's safe to say that she's a genuine American at heart.
Above all else, however, she has a Haitian spirit, and she admits that plainly. "I was a former foster child and found my birth mother 11 years ago. When she told me all about my father and that he was Haitian, I was just like 'NOW IT ALL MAKES SENSE LOL'—the fact that I was so drawn to the culture beforehand and just felt at home with other Haitians and my natural interest in Haitian history and Haitian voodoo."
As a multiracial woman, Claudette is part Latina and part Italian, and she's also the mother of a young boy. One of her goals in life is to serve as a role model for her child.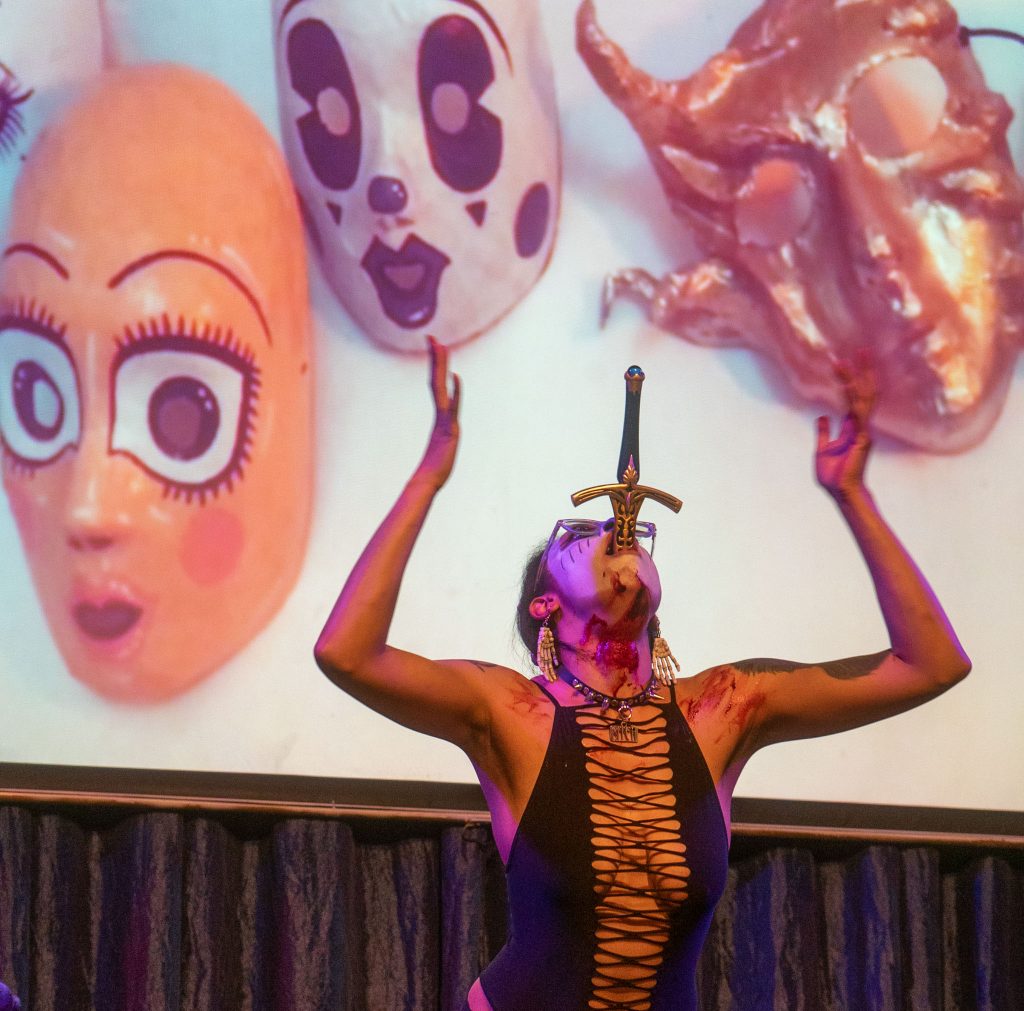 Education, Work, and Accomplishments
Unexpectedly enough, Claudette is certified in residential electrical and holds an associate's degree in computer networking with ITT Tech. She jokingly says that these qualifications are what pushed her to become a sideshow performer.
In her work life, she likes to keep it flexible and find a way to satisfy her need for money and pursue her passion at the same time. Thus, she holds a part-time job to cover the bills and is active as a part-time performer to improve her skills and presence. And if Claudette's life already seems colorful and varied, her future goals take that to the next level.
Not only does she aim to become a full-time sideshow entertainer, but she also dreams of becoming a certified volcanologist at some point. However, she admits that won't be possible anytime soon since she prefers to pursue that avenue only when her son becomes a bit more independent.
When it comes to personal accomplishments, her son occupies the first position. She couldn't be any prouder of him, especially as a single parent who has to struggle for two. From a professional standpoint, Claudette's greatest accomplishment is the opportunity to perform in iconic locations, such as Las Vegas, New York City, and Coney Island.
Future Goals
Claudette Andrini envisions herself as a role model for young Haitians and people everywhere. She also hopes to bring awareness to Haiti's amazing history and culture and teach kids and teenagers that nothing is off limits, so long as they believe in themselves. In her own words, "Definitely educate others on Haiti and help them to know the truths of the country and people. Also, show other Haitians that they can be anything they want to be."
As her final thoughts, Claudette notes the racism, stereotypes, and sexism that she, and other women, experience daily, which she definitely hopes to change. And what better way to do it than to serve as a role model for other women to follow and empower themselves along the way?