Prinston and Edwige Jean-Glaude, the owners of Primary Medical Care Centers, opened their first community clinic in Miami in 2013.The couple was inspired to do so after taking their elderly parents for their medical visits and were dissatisfied with the care they received. The mandate to deliver excellent care to every patient while never placing profit over patient health is the model at the core of Primary Medical Care Centers.
"Primary Medical Care Centers is about patient care," states CEO Prinston Jean-Glaude. "It is about making sure that every patient who walks through our doors receives the highest quality of care and feels valued as a person."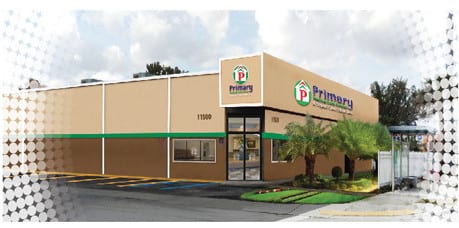 On June 9, 2018, their second location in Lauderdale Lakes celebrated its one-year anniversary. In fact, 2018 was a banner year for Primary Medical Care Centers – both their Miami-Dade and Broward clinics were up and running at full capacity, enjoying active community engagement, and gaining recognition as award recipients. These two community clinics, located in Miami and Lauderdale Lakes, specialize in family medicine and accept patients aged 14 years and older, yet maintain a very strong geriatric patient base. The clinics are housed in state-of-the-art facilities with on-site lab-testing, x-rays, and diagnostic services. They are both served by medical doctors and a highly competent and friendly staff who handle non-life-threatening emergencies, prescription refills, specialist referrals, nutritional counseling, disease management, and education. They accept walk-ins, appointments, and even house-calls upon request.
This has been a labor of love for the Jean-Glaudes, who turned this venture into a true family affair by bringing Edwige's sister, Dr. Alie Darbouze, onboard as the Executive Director of Primary Medical Care Centers. Both Prinston and Edwige sacrificed their comfortable careers to step out on faith into entrepreneurship. While the sisters – Edwige, a nurse, and Alie, a pharmacist – were already seasoned healthcare professionals, Prinston came from the corporate world as an information technology executive. However, this combination of knowledge, skill, prudent business savvy, along with hard work and unshakeable faith, makes this family mission to serve a winning formula.
Prinston Jean-Glaude credits his parents and his mother-in-law for inspiring his entrepreneurial spirit. He also drew inspiration from former President of the United States, Barack Obama, whose "Yes, we can," tagline is now Prinston's mantra.
"When Barack said, 'Yes, We Can' and did it, I knew that I could do anything," says Prinston.
He now hopes to inspire others who also dream to open their own businesses. Through his strong foundation in faith and guided by Christian principles, he sees Primary Care Centers as a mission to serve his community.
With the addition of the Lauderdale Lakes clinic, Primary Medical Care Centers have been actively serving not only their patients but the community at large. They have increased their engagement in educational initiatives through their "Wellness Wednesday" series, which touches on a variety of wellness topics ranging from mental health and safety to healthy eating and exercise. The series has branched out to include a walking club and a community forum hosted by popular media personalities. Refreshments are served at all Wellness Wednesday events, which are always free to the public.
Through their free community events throughout the year – such as their Mother's Day Celebration, Father's Day Celebration, Thanksgiving Turkey Drive, and the Seniors Holiday Giveaway – Primary Medical Care Centers maintain a spirit of giving joyfully. They also sponsor and participate in several community events, such as the Health and Wellness Festival in Griffing Park and the City of Lauderdale Lakes Community Resource Fair. In addition to giveaways, raffle prizes, food, and entertainment, free massages have become a standard at Primary Medical Care Center events.
In 2018, Primary Medical Care Centers was recognized for its service and leadership. On the 4th of November, the Global Women's Initiative Network made them a 2018 Star Honoree for Empowering Women & Families in Healthcare Services at the Balancing Life–Pearls of Wisdom– Global Women's Initiative Network Luncheon. On the 1st of December at the Annual Red Dress Soiree, Primary Medical Care Centers was presented with the Outstanding Healthcare Organization Award by the Community Health & Empowerment Network.
Feeling blessed and grateful for the growth and success of 2018, the Primary Medical Care Centers family – which includes its entire staff, vendors, and well-wishers – is looking forward to the rest of 2019 with great optimism. Their mission is to continue to provide the highest quality, affordable, patient-centered care – the same kind they have always delivered. They will continue with their educational initiatives, as the main part of their mission is to educate their patients about healthy living in order to promote compliance and achieve successful outcomes. There are plans for even more community outreach and involvement to support their mission to serve.