Written by Alex Popa
Magdala Charles's artistic background is non-existent, yet, she's a full-time artist in Miami at the time of writing this article. She was born in Arcahaie, Haiti, in a strict Haitian household, and she wasn't exposed to art in any shape or form as she grew up, but her budding talent for painting was something "God-given," according to her.
As she looks back to her formative years, going to college was the event that sparked her passion for painting. She was almost penniless and wanted a hobby to take her mind away from the hardships. So she bought a few painting supplies and started painting, just like that. Soon, her peers in college started requesting personalized digital graduation caps, so she started selling them.
How Did She Develop Her Artistic Skills?
Magdala Charles says her skills are mostly self-taught. She does list many artists who inspire her, like Tahlia Stanton who is an abstract realist painter. Magdala loves her because "she is a mixture of the new art world, and she's so vibrant." She says she constantly upgrades her painting style based on inspirations from other artists.
Her learning process doesn't stop at inspirations, though. Being self-taught means she finds even the most basic of artistic things interesting. The creative process is the bread and butter of her passion for painting, though. Beyond the simple things like using a brush and seeing how the paint dries, it's the freedom to express herself that's most attractive to her.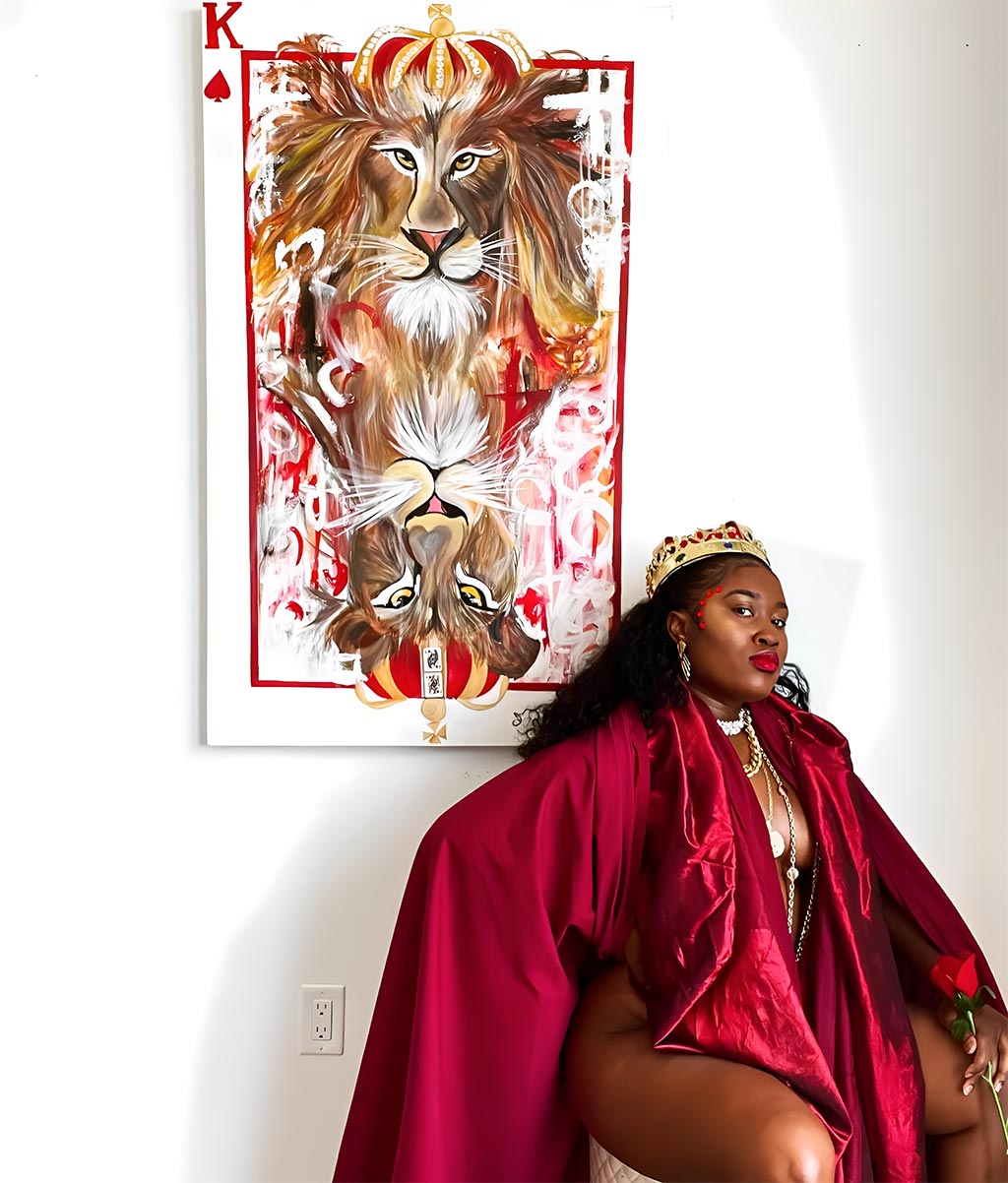 All of her work is an expression of herself.
She says she loves all of her artistic works, and there isn't one that she especially loves. All of her work is an expression of herself. She also tries teaching others about the wonders of painting. SIP n GOUYE, an artistic workshop founded by her friend, Marcus Dellille, is where she interacts with other painters and attempts to share her experiences with them.
Magdala is also into NFTs, the new and up-and-coming crypto asset that's been taking the world by storm. She's also created an NFT and plans on marketing it!
What Is Magdala Charles's Advice to Aspiring Artists?
Magdala is proud to have "mastered self-realization," in her own words. She knows what she's capable of, and she knows she can do it. It's a form of empowerment and inspiration for other Haitian women aspiring to be artists or entrepreneurs. But being an entrepreneur doesn't mean working all the time. Taking a break is just as important.
Her goal for the future is to represent Haitian culture through her art and bring it to the attention of American society and beyond. We wish her luck in this endeavor!
Contact:
Website: mcartelier.com
IG: instagram.com/mc_artelier