Who doesn't need nourishing hair and body oil for extra nourishment? That is especially true if the oil in question can grow your hair back and deal with inflammation, skin discoloration, age spots, acne, and much more. OKAY Haitian Black Castor Oil is the product we're talking about. Some have even called it "Miracle Oil" thanks to its immediate and potent effects.
High-Quality Oil
OKAY Haitian Black Castor Oil is made from castor oil seeds that grow in organic farms. After being harvested, the seeds undergo an attentive extraction process that roasts and refines them into pure-quality Jamaican oil. From our observations, OKAY Black Castor Oil is the purest on the market, with the thickest consistency. Its effects are particularly intense and quick-acting, as well.
Essentially, the company aims to maintain the castor seeds as pure as possible, for those beautifying benefits. Once the oil comes to life, the minerals, proteins, Vitamin E, and ricinoleic acid bring transformative benefits. The extraction and roasting methods used to produce the oil follow the Haitian traditions, as well. It's how they've done it for hundreds of years, and this is how OKAY does it!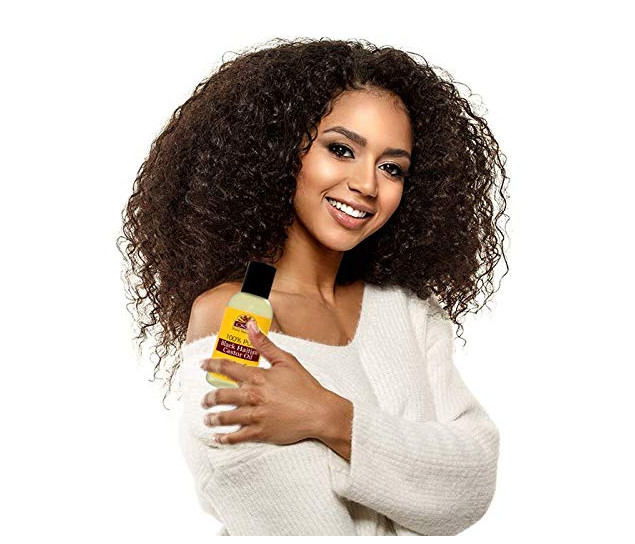 Benefits of OKAY Haitian Black Castor Oil
Whether it's skincare, haircare, or body care, the Haitian Black Castor Oil from OKAY should touch all your checkboxes. Here's what you can use it for:
Hair Growth – Alopecia, premature baldness or insufficient hair thickness isn't any fun. But OKAY Haitian Black Castor Oil promises to solve these problems with a few applications. Place a few drops on your scalp and massage the area carefully until the oil enters the skin. Do this consistently for a few weeks, and the benefits should become visible!
Skincare Routine – Are you dealing with moles, wrinkles, ringworms, warts, or cysts? A few drops of Haitian Black Castor Oil should be enough to eliminate them. Thanks to Vitamin E, Omega 6, and Omega 9 fatty acids, castor oil will improve blood circulation, smoothen your skin, and moisturize your follicles. The result – a shinier skin with fewer imperfections, thereby enhancing your looks.
Alleviating Pains – OKAY Haitian Black Castor Oil is far better than your average cosmetic oil. The ricinoleic acid with Omega 6 and 9 fatty acids has powerful anti-inflammatory properties. It can treat sore muscles, joint pains, back pains, menstrual pains, and even reduce swelling. Make sure you massage the oil into the skin well enough!
Eliminates Wrinkles, Age Spots, and Acne – Black Castor Oil from OKAY is a great option for those stubborn acne spots that never go away. Apply it with your fingertips and rub it in slowly. After a few uses, the acne should start receding slowly by steadily. OKAY Haitian Black Castor Oil should smoothen out wrinkles and age spots, as well
There are few oils with so many benefits out there. Haitian Black Castor Oil from OKAY nourishes, moisturizes, smoothens, and heals your skin and scalp. It's excellent for hair loss when there's no good solution in sight. A few drops of oil and a bit of massage will do wonders for your receding hairline, basically.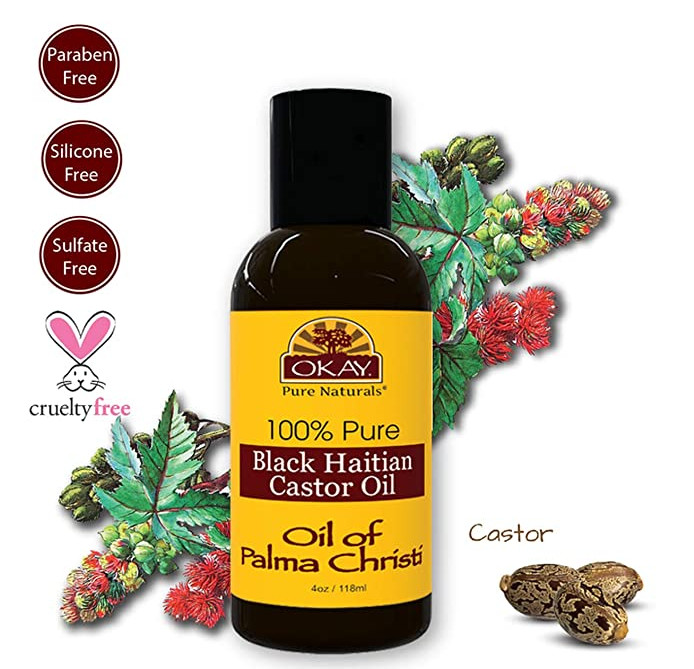 Who Can Use OKAY Haitian Black Castor Oil?
Everyone can use it without restrictions. It's a natural product with no negative side effects. Its sole purpose is to offer a series of health benefits for your hair and skin. Use it well, and it should solve most of your hair-related problems. It can even treat alopecia, which is generally genetic, as we all know. Joint pains, back pains, acne, sore muscles, skin infections – Black Castor Oil can help with everything.