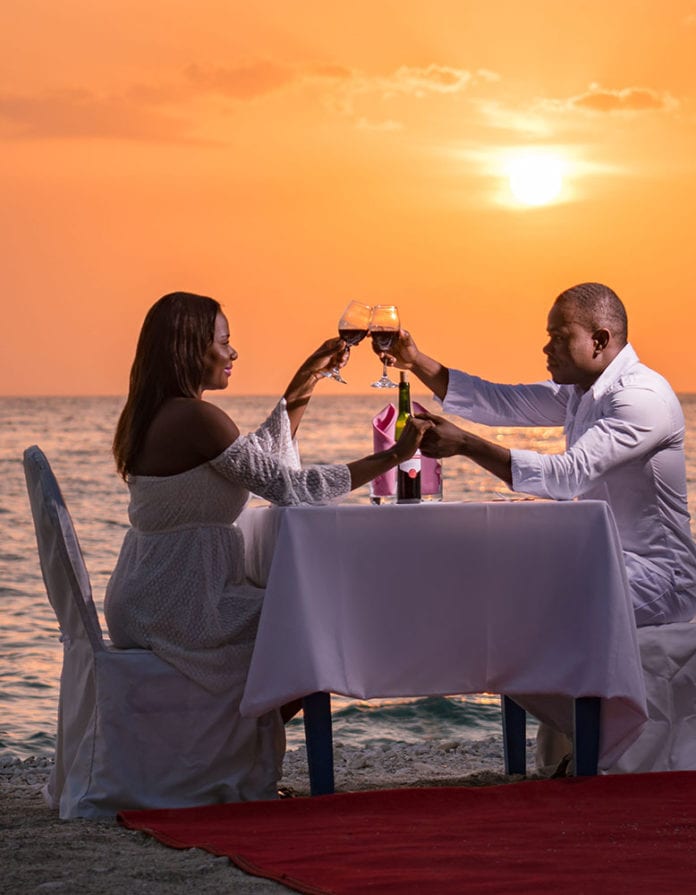 By Shelly-Ann M. Parkinson & Megan Collier
Each year, more and more brides and grooms are finding that with the combination of budget-friendly costs and the true Caribbean feel that Haiti is able to provide, they have found no better place to celebrate their big day. From the pristine white sandy beaches to the breathtaking mountains that surround them, Haiti is full of magical and awe-striking magnificence that seems to continuously be expanding throughout the country.
Location and Climate
Nestled between the Caribbean Sea and the Atlantic Ocean, on the island of Hispaniola, Haiti's year round tropical, semi-arid climate is perfect for your island nuptials, making it a destination that not only you and your soon-to-be partner for life will enjoy but that all of your friends and families will enjoy as well. With the average temperature falling between 70 and 80 degrees Fahrenheit and pleasant balmy breezes, warm wedding memories are certain to be made.
Accessibility
Flying from South Florida on several major airlines, you can expect to land in Port-au-Prince, Haiti, in less than 3 hours. Haiti is also easily accessible from most major U.S. cities with direct and connecting flights. Feel free to invite those cousins in other Caribbean islands, Canada, and in France as well, as they too can enjoy non-stop flights to Haiti.
Budget-Friendly
Planning a destination wedding does not have to break the bank. Haitian wedding planners such as Angie Manuau of Konfetti Décor, Jaelle JL Josecite of Ayiti Deco Mariage, and Myrlande Affriany of Kaliko Beach Club can craft the wedding of your dreams to suit your budget. Hiring a reputable wedding planner does not only take the stress out of planning this major event but also keep you on track with your set budget.
Haiti is not only home to some magnificent hotels and picture-perfect scenes but is full of rich culture.
Venue Choices
Of course, one of the major decisions to make is your wedding venue. The nation's capital, Port-au-Prince, and its most vibrant city, Pétion-Ville, offer a wide variety of hotel venues such as Karibe, Kinam, Le Plaza, Villa Therese, and Servotel, amongst so many others (listed on haitiopen.com/hotels). However, your dream of a Caribbean wedding always featured the tapestry of glistening azure waters. Haiti will not disappoint you and promises to make your dreams come true with beachside resorts such as the Royal Decameron, Kaliko Beach Club, and Moulin Sur Mer at La Côte des Arcadins, and Colin's Hotel in Jacmel.
Rich History and Culture
Saying your vows in the First Black Republic in the Western Hemisphere is a powerful statement within itself. Building your foundation on soil rich with the blood of liberators and an undaunted people is a source of strength. With the contributions of African and European influences, Haiti's wealth is in its people and culture. Hypnotic rhythms, vibrant art, and complex culinary cuisines all form a back drop for a one of a kind wedding experience. Clearly, Haiti is not only home to some magnificent hotels and picture-perfect scenes but is full of rich culture. Those couples that do choose to get married in Haiti in the upcoming years will be able to experience a true destination wedding that not many before them can say they have done. With the growing popularity and news spreading about what lies ahead for destination wedding plans in Haiti, it will be no surprise to find that a rise in weddings will increase year by year and that more couples may just realize they've found their new favorite Caribbean spot.
You May Just Never Want to Leave
With so much to do and see in the beautiful lands throughout Haiti, it's possible to spend an extended honeymoon for days or weeks after the actual wedding day. Either relax beachside or head out on the many day trips and tours that are available in nearly every hotel and resort, all ready to give you the thrill and adventure of a lifetime. From the teeming waters just off the shores to the incredible mountains all ready to be explore, Haiti is one place where a destination wedding is far from ordinary.
Cherished Memories That Will Last a Lifetime
No matter where you decide to exchange vows in Haiti or what you decide to do before and after the big day, it is sure to be an event to remember for a lifetime and one that you and your loved ones will cherish for years to come. So, get to planning that wedding that you have always wanted and before you know it, you and your guests will be the ones dancing until the wee hours of the morning and trying to remember why you ever doubted the amount of pure joy that could come from an incredible destination wedding in beautiful Haiti.
For U.S. Citizens planning to get married in Haiti, the U.S. Embassy in Haiti advises that the couple visit the civil registrar in Haiti at least 15 days prior to the wedding to apply for a marriage license. They must show proof of identity and a list of at least 2 witnesses. There are additional requirements such as a blood test and a four to five day waiting period, but these can be waived. If either party was previously married, a certified copy of the divorce decree or a death certificate would also be required. The couple may then purchase an "Acte de Mariage" and is advised to have it authenticated by the Officer d'Etat Civil before returning to the United States.