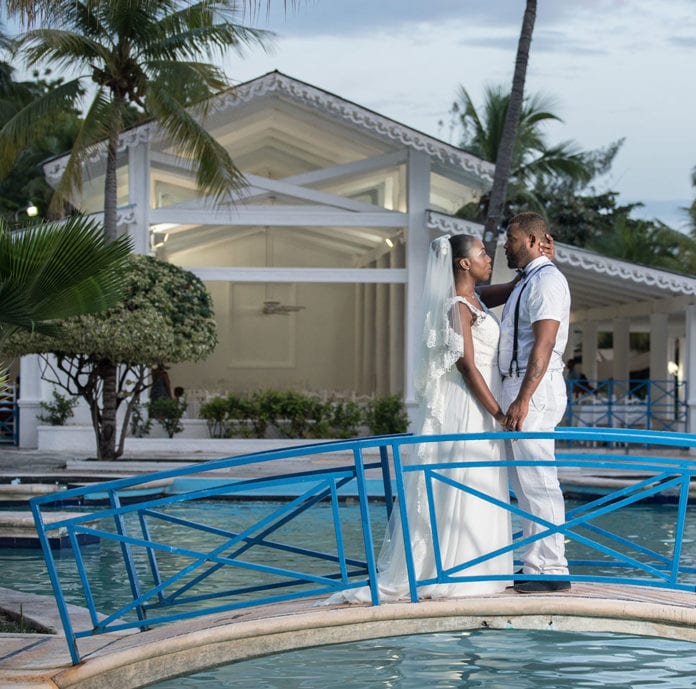 Myrlande, which service you provide the most? Wedding decor or planning?
I would say both equally, because as the decorator I find that I spend a lot of time assisting a bride in choosing flowers. This usually leads to planning.
How long have you been in business? And how many weddings have you done in Haiti?
It started out as a hobby over 15 years ago, then I realized how passionate I was about every aspect of putting together all the elements of a successful event. I decided to take it full circle nine years ago. So far, I've done seven weddings on a professional level and over 10 as a hobbyist.
Kaliko Beach Club has several locations on the property that can be converted, for a fairytale event to the most exotic wedding.
What do you love about planning or decorating a wedding in Haiti?
Haiti offers a natural backdrop for a beautiful wedding anywhere you go. I'm able to use the natural resources we have in Haiti to create a stunning wedding.
You're in charge of helping with weddings at Kaliko Beach Club.
Yes. There is a banquet team, and when a couple requests my services, I try to make myself available.
What are the benefits of having Kaliko as a wedding venue in Haiti?
We have everything on hand, and the beach offers the most beautiful sunset as a backdrop for memorable pictures. Several locations on the property can be converted, for a fairytale event to the most exotic wedding. The food and the wedding party can be prepared and get ready on site. I would say the benefits are almost endless.
For outdoor weddings at Kaliko, what contingency plan would you have for bad weather?
We have 2 large ballrooms. One can accommodate up to 150, the other up to 400 guests.
What kind of planning and/or decorating do you offer?
Wedding planning, communions, special birthdays, and engagements – you name it.
Do you offer different package options, or is everything customized based on what
couples are looking for?
We offer four packages at Kaliko, and also customized events.
How do you charge for your services?
Hourly for event planning. Decorating is a fee based on the type of décor and flowers that the customer wants.
Do you handle rentals? How much of a deposit is required to book your services? When is the final payment due?
At Kaliko, we are very well equipped. We don't have a need to rent a lot of items. We ask for 60% upon signing the contract, and the balance 60 days before the event date.
In your experience, what's the wedding industry in Haiti like?
I find more people should become aware that Haiti could be a perfect location for a destination wedding; for now, I believe that is lacking.
What do you do when you're not planning or decorating a couple's big day? What's an off day like for you?
I love researching new ideas about decorating & architecture, and working at Kaliko as their interior decorator. I work at my clinic in Jacmel, providing medical care to the less fortunate, or go to various rural areas in Haiti to provide medical care to malnourished children.