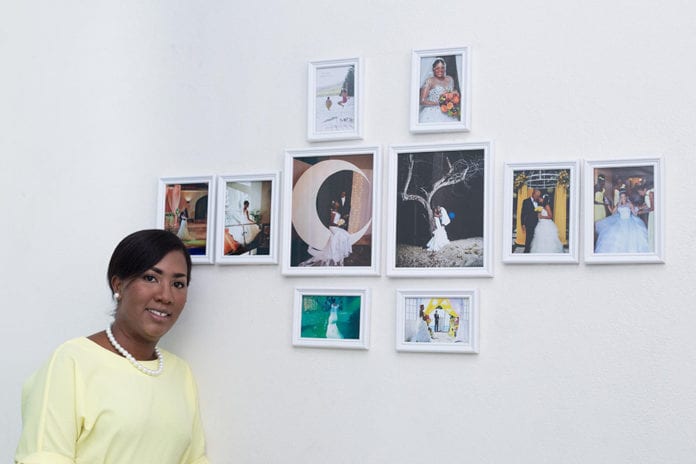 Miss Jaelle, what made you want to be a wedding planner?
I have wanted to be a wedding planner since I was little, because my mom specialized in making wedding dresses in Guadeloupe, where I was born. That's how I got into this business. During my many professional missions in Haiti – I used to work for an airline company – I met my husband and decided to stay in Haiti. But I didn't think about founding my own company until a friend of mine, Cassandre, asked me to take care of her wedding. That's how everything started.
How long have you been in business?
Four years. And we're really proud of it.
How many wedding clients do you take on in a year?
As we're mainly specialized in the world of weddings, we can do a bit over twenty-five weddings per year. Some months of the year, like July, August or December, we're booked for a year and a half in advance.
What do you love about planning or decorating a wedding in Haiti?
What I love about planning and decorating weddings in Haiti is the fact Haiti has a different type of landscape. Whether it's on the beach, in the countryside with its lush landscapes, in the mountains or in the beautiful hotels, frankly, we're every bit as good as the other Caribbean countries. We have idyllic and breathtaking landscapes to make every wedding a unique one. Nothing is impossible in terms of creativity.
One other thing I like about Haiti is the vendors. I work with the best vendor on the market. They are very professional, and together we make a great team.
For outdoor weddings, what contingency plan would you have for bad weather?
When you talk about Haiti, you talk about sun, but also rain. Generally, for a wedding during the rainy season, we always pay close attention to weather reports. Depending on the forecast, we decide whether or not to have the wedding outside, and this is why we always advise the future bride and groom to have a venue that includes a place that is covered as well as one that's outside. This allows them to have an option should it rain, and we've always got the option of having a tent. If there's a hurricane, we manage each case individually, according to the alerts, and keep the future bride and groom updated on the situation. Sometimes we postpone the date.
Describe the most challenging wedding you planned and/or decorated in Haiti and how you handled the problems that came up.
Wow… the most challenging wedding was the one we did for a family of three sisters and a brother who all wanted to get married on the same day. There were 180 guests at the reception and 260 at the ceremony. They got in touch with us a year and a half before their weddings. One thing that was hard to manage was the guests at the reception. Not everyone who was present at the wedding ceremony was invited to the reception. So you can imagine how hard that was! And since the wedding was in the same venue as the reception, this was difficult. But thanks to our knowhow, we were able to respect the timing and have the reception on time with the 180 guests who were invited. It was a moving wedding, and everyone had a great time!
What kind of planning and/or decorating do you offer?
The services we propose are:
Planning:
– A-to-Z wedding organization
– Wedding-day coordination
– Secular ceremonies
– Wedding's anniversary
Decoration and Events:
– Decorations
– Special effects
– Lighting
– Fireworks
Do you offer different package options, or is everything customized based on what couples are looking for?
When future couples contact us, they often are looking for ready-to-wear packages, but some of them like packages they can customize. So, depending on what they want, we adapt.
How much of a deposit is required to book your services? When is the final payment due?
We ask for a 30% deposit. Depending on when the wedding will take place, you can pay in several installments. The final payment takes place three weeks before the event. We accept payments via PayPal (with expenses) as well as wire transfers via Cam Transfer and Unitransfer.
In case of an emergency that prevents you from being at a couples' wedding, who will be the backup planner? What are their qualifications?
I'm not alone in running the agency. We are a whole team working on the organization or decoration of our bride and groom. My team is experienced and professional, so there is really nothing to worry about in case of an emergency. They all know what to do and how to do it.
Once a couple books with you, how quickly can they expect to receive a contract?
They can receive the contract within 48 hours.
What do you do differently than other décor companies in Haiti?
The ceremony is seen differently in our company, as it's a symbolic moment for the bride and groom and the first place they'll discover.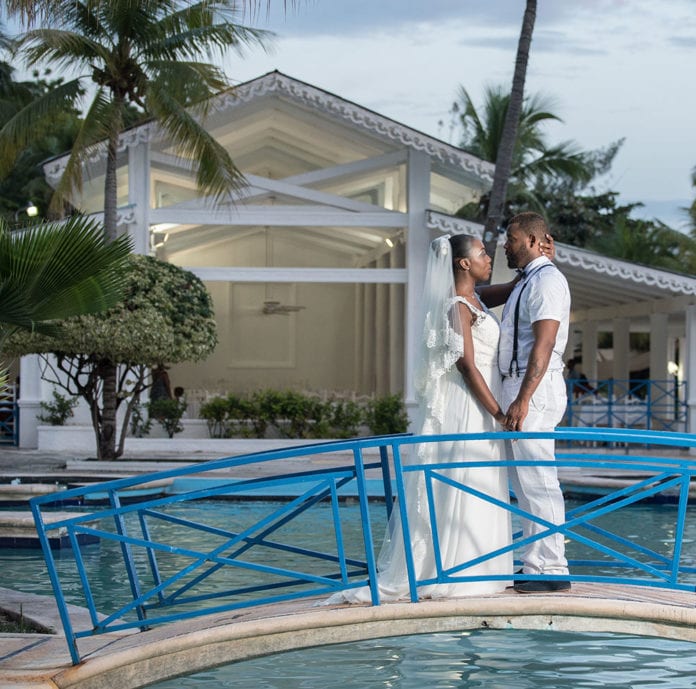 We always strive to do something different and memorable in wedding ceremonies.
As per your experience, what's the wedding industry in Haiti like?
You have to know that for us Haitians, weddings are very important in our culture.
However, in Haiti, when you work in this field, it can be difficult. Many people don't understand the roles that a wedding planner or decorator play. Some people think just anyone can do it.
But because of the internet, future brides and grooms in Haiti and the Haitian diaspora abroad are very demanding and want true professionals to organize for their wedding experiences.
Tell me about the pros, the cons and how the industry can be improved so couples around the world will start considering Haiti as a wedding destination.
To position Haiti as a wedding destination, you have to start by positioning it in this market using promotional campaigns. However, before a campaign, you have to do a market study and a survey to know the market in other countries, and manage it. You have to know how many weddings take place per year in Haiti, the types of clients, their origins, how many venues there are in Haiti, how many Wedding Planners there are, etc. A close collaboration between professionals in this field must be set up with the concerned venues to succeed in this mission. The presence of Haiti at specialized wedding trade fairs should increase Haiti's profile as a "Wedding Destination".
What do you do when you're not planning or decorating a couple's big day? What's an off day like for you?
Ha! I don't think wedding planners ever take a day off. We're always glued to our phones to answer messages and queries. But when I've got a minute for myself… I reserve it for my family and spiritual activities. I also like watching television, especially my favorite show, "Four Weddings for One Honeymoon" on the French M6 channel. When I've got a week off, I do local tourism.
In closing, provide 5 or more tips for couples that wish to have the best possible wedding experience in Haiti:
1. Decide on your budget.
2. Contact your wedding planner at least 14 months before your wedding date to be able to pay in installments.
3. Work only with well-known professionals. Don't hesitate to look at their internet sites and their Facebook and Instagram pages. (Be careful though – some people claim work done by other decorators as their own.)
4. Have the wedding that you want, and not the one your parents or your friends want.
5. Choose Haiti for your wedding!