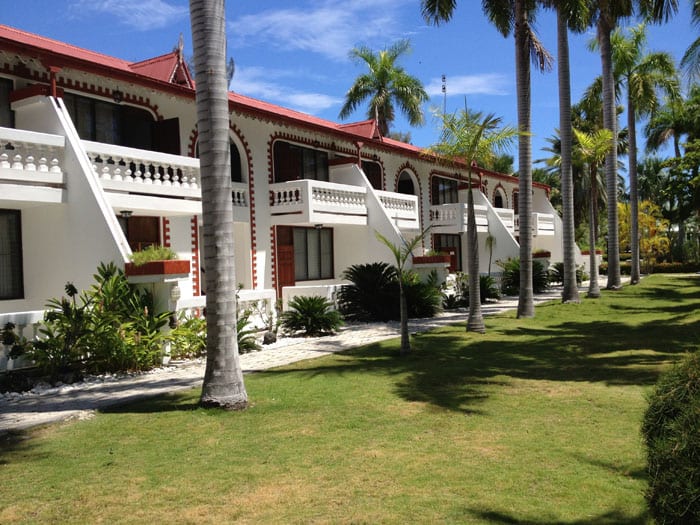 Moulin Sur Mer
If you're looking for luxury on the beach, you'll find it at Moulin Sur Mer. Modern amenities meet history on this former sugarcane plantation from the 18th century. In true colonial style, the hotel stands in a picture-perfect setting amongst period-appropriate architecture to bring a relaxing and unique sensibility to your visit in Haiti. If that wasn't enough reason to stay, here are a few more.
Moulin Sur Mer is an all-inclusive beach resort in the Haitian town of Montrouis. It faces the clear aqua blue sea of La Cote des Arcadins.
During the 18th century, the site of the hotel was a sugar cane plantation. You'll notice the colonial architecture of the structure when you first arrive there. You will love the local historical culture mixed with the modern beauty and conveniences of this beach resort.
There have been some upgrades added to the resort recently. One of which is Marina Blue. It offers a lot of activities for guests who love nautical sports. Another new addition is a private island called Zile Soley. It is linked to the shore by a bridge, and guests can use it for sunbathing and sightseeing.
Modern amenities meet history on this former sugarcane plantation from the 18th century.
Reviews
When you arrive at the international airport in Port-au-Prince, you have to drive an hour to get to the hotel. Once you get there, you'll know right away that it was worth the trip. The architecture of the hotel combined with the natural beauty of the beach is a match made in heaven. You will feel total peace and serenity while you are there.
Moulin Sur Mer is ideal for outdoor lovers. The variety of recreational activities include both water sports and land sports. It has everything from volleyball to diving and swimming. Also, there is an onsite PADI diving center where you can take diving classes and learn how to dive better.
When you're hungry, you can visit the onsite restaurant that serves breakfast, lunch and dinner. Their cuisine choices range from local Haitian cuisine to international dishes, including American food. No matter which part of the world you are from, you will find food to your liking for sure.
The Amenities
There are approximately 68 hotel rooms at the Moulin Sur Mer. Each room features air conditioning, safes, bottled water, furnishings, decorations, LCD television sets (32 inches), cable channel access, bathrooms, showers, bathtubs, ironing boards, irons, phones, desks, mini-bar and free Wi-Fi internet access. The housekeeping service comes by once per day to clean the rooms.
Do you like to go swimming? There are an adult swimming pool and a children's swimming pool outside the hotel. If you'd rather swim in the ocean, you can visit the private beach that is accessible to hotel guests only. There is also a waterslide and tennis court that you can enjoy as well.
But if you want to enjoy some more adventurous recreational activities, the hotel lets guests use their kayaks for free. And if you go scuba diving to look at coral reefs, you can rent the scuba diving equipment form them.
All the rooms have a magnificent view of the well-groomed gardens. You can also go out and walk around the gardens if you'd like. It is the perfect romantic setting for couples, newlyweds, and anyone who is about to get married.
This hotel has it all, and you may find yourself not even needing to leave once you've put down your bags. Relax in the swimming pool, watch your children enjoy the playground, or get into some sports on the on-site courts. The staff offers excursion planning and, if you happen to be a sailor, a marina and docking.
The Rooms
Not only are they comfortable and welcoming, but the rooms are unique. They're decorated with Haitian arts and crafts and built in the style of traditional colonial architecture. Many of them overlook the gardens and lakes, and all have air conditioning and hot water heated by solar panels.
The Dining Experience
The on-site restaurant offers three locations around the resort for dining. Enjoy your meal while overlooking either The Voumtak, Le Boucanier and the L'Espadon. Aside from the top-notch meals offered throughout the day, try to make it to Sunday brunch, when the maestro is there to play classical and Caribbean tunes.
The Gardens
A stunning touch to the property is the 20 acres of gardens that complement 15 acres of beachfront property. In collaboration with the Ogier-Fombrun Museum, there is a variety of artistically manicured flora including native Caribbean species like coconut, palm, date and an assortment of tropical flowers.
Wedding Space
If you want to plan a memorable wedding in a gorgeous setting, then Moulin Sur Mer offers the perfect venue for wedding ceremonies and receptions. The hotel offers comprehensive wedding services that include private party rooms, rehearsal dinners, music, flowers, and more. Couples often come to Moulin Sur Mer when they want to have a fairytale wedding. Between the classic architecture and the gorgeous blue seas, is there any better setting to have a fairytale wedding?
The private island, Zile Soley, is the ideal area to have your wedding ceremony. It is more secluded as it is away from the hotel building, so it will be less noisy for your wedding. Therefore, you might want to think about using the Zile Soley for your wedding reception and ceremony.