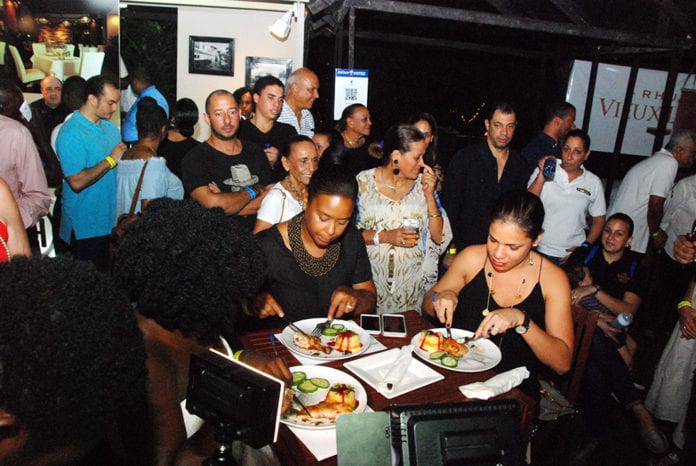 By Eseandre Mordi
The Gout et Saveurs Lakay was initiated and organized by Culinary Events, Chef Stephan, Johanne Buteau and Jean-Max Chauvet, and in partnership with Le Nouvelliste and Association Touristique d'Haiti, as a way to foster the development of Haiti's gastronomy by putting the country's culinary and hospitality talent on the global map. The first edition of the "Gout et Saveurs Lakay" – Haiti's Food & Spirits Festival – was nothing short of a massive success. It involved local and international Haitian chefs, restaurants and caterers.
The objective of the Gout et Saveurs Lakay festival is simple: to promote Haiti's gastronomy via cultural, professional, economic and social development channels, and direct the profits of the festival towards culinary and hospitality education in Haiti.
The festival allows local and international chefs of Haitian origin to participate in the festival, and enrich and share their knowledge with other professionals in Haiti while making use of locally grown ingredients.
In one edition of the event, participating restaurants included Press Café, Le Rond Point Restaurant, O-zone, La Brasserie Restaurant, Asu, La Reserve, Le Michel (Best Western), Jojo Restaurant, Habitation Turpin, La sirene, Myabel sa, Le coin des artistes (vivano), Kokiyaj bar et grill, Le Cristo (Villa Russo), Le vert d'or, Smokey's Bar & Grill, Quartier Latin, Jazzy'z Restaurant and many more. The festival always features the best of Haiti.
The festival runs yearly, typically takes place in September. For a concise collection of pictures of past festivals, visit the Gout et Saveur Lakay Facebook page here facebook.com/GoutetSaveursLakay
Recommended hotels to stay for this event:
• Hôtel Montana
• B&B Comfy Inn