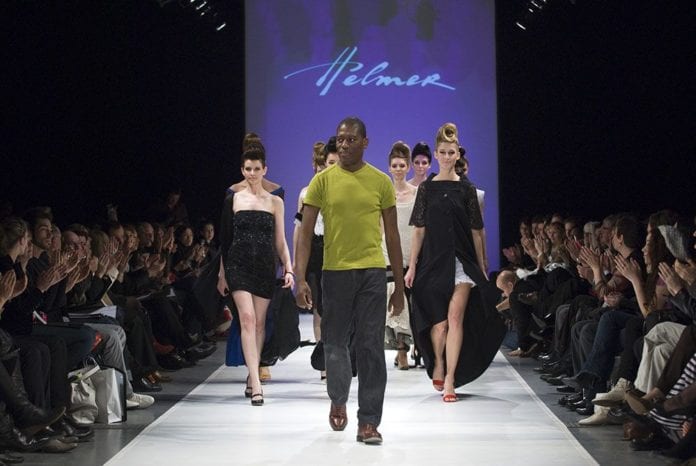 Article by Briyana Joseph + Photos by Edward M. Jean-Barre
Helmer Joseph is a haute couture designer in Montréal whose creations blur the boundaries between art and fashion and have been featured in various exhibitions and museums around the world, including the McCord Museum in Montréal and Musée de la civilisation in Québec City. His approach to fashion is rare and specific; employing a range of sustainable fabrics like organic cotton, silks and linens. He creates everything from accessories to suits and combines innovative designs with sustainability.
When did you first realize you wanted to pursue a career as a designer?
"When I was around seven or eight years old. I found people to be unfashionable. I criticized everything and asked for advice," says Helmer, who was born in Gonaives, near Haiti's place of independence and the church. "My audience was always wearing their Sunday best, such as marigolds for burial masses and national holidays."
What is your favorite part about being a designer?
"The FREEDOM to DREAM what is possible."
Helmer's imagination has never been in question. As a child in Haiti, he trained as a tailor at JB Damien vocational arts school, and moved to Jamaica for one year to study machine embroidery. At the age of 20, he came to Montréal with his family and studied fashion design at College Lasalle. He launched his first collection in Montréal in 1982. In 1983, at the age of 27, he moved to Paris, where he studied fashion and textile design, specializing in a variety of fields with an emphasis on haute couture at Esmod, Francoise Conte, Lesage, and l'école de la chambre syndicale de la couture parisienne. During his 20 years in Paris, he took on contract positions at all the major couture and fashion houses, including Dior, Chloe, Thierry Mugler, Louis Vuitton, and many more.
Would you travel, let's say, to Haiti to design a blazer or blouse?
"Currently, I am in Haiti. I am working on a collection of embroidered white blouses for men and women influenced by our history and culture."
When he returned to Montréal in 2004, he continued to produce a collection twice a year and to work with clients from all over the world, including Paris, Boston, Washington, Ottawa, Toronto, Haiti, Senegal, Benin, Martinique, and Ivory Coast. He opened his gallery-boutique on Boulevard St. Laurent in 2009.
Source: Kat Sark from suitesculturelles.wordpress.com