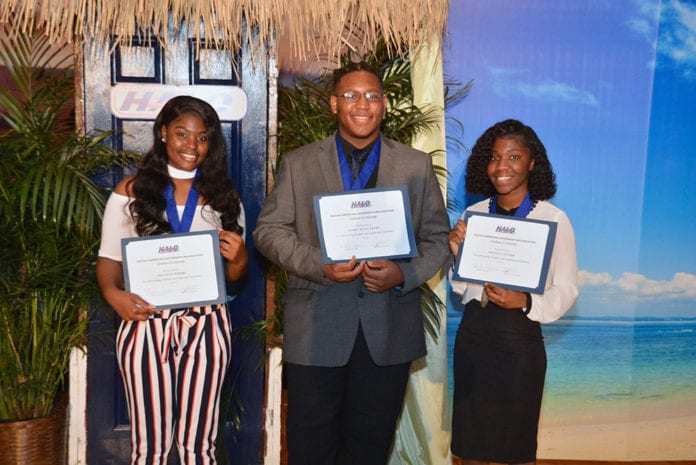 13th Annual Cultural and Fundraising Gala – La Perle des Antilles
(May 2018)
By Katia Philippeaux, President of HALO + Photos by Richard Liburd
If you have not yet attended one of the Haitian American Leadership Organization (HALO) Cultural and Fundraising events, you are missing out on an evening of fun, dance, and culture. For the past 13 years, HALO has hosted one of South Florida's "must attend" fundraising events. Its main purpose is to raise funds to award underprivileged high school seniors the opportunity to attend college. In addition, the vibrant cultural theme component attracts both in and out of town attendees to the annual rendezvous. Each year a different theme is presented, showcasing the history and beauty of the Haitian culture.
This year's theme, La Perle des Antilles: The Pearl of the Antilles, demonstrated the beauty of Haiti as guests embarked on a cruise to the sandy, breathtaking beaches of Haiti. A captain and crew welcomed attendees as they walked through the 3D cruise ship featured at the entrance of the ballroom. The cocktail reception included traditional Haitian cuisine appetizers, drinks and networking opportunities.
The cultural program of the evening included a show from Nancy St. Leger Dance Ensemble and a performance by Sosyete Koukouy, under the direction of Jean Mapou. Annually, the groups cultivate their performance with the featured theme, enlightening the audience with a brief, yet rich history of Haiti. The evening ends with guests dancing the night away with a performance by the musical group T-Vice.
HALO is a 501c3, non-profit organization based in South Florida. Its mission and vision include the empowerment of our community to be better represented, to support and promote the development of future leaders through education and to provide a link between existing community-based organizations to facilitate networking opportunities. HALO looks forward to embarking on new projects that will continue to empower the youth in our community and become our future leaders.
For sponsorship opportunities and for updates on HALO, please visit halohaiti.org or email halohaitiorganization@gmail.com.