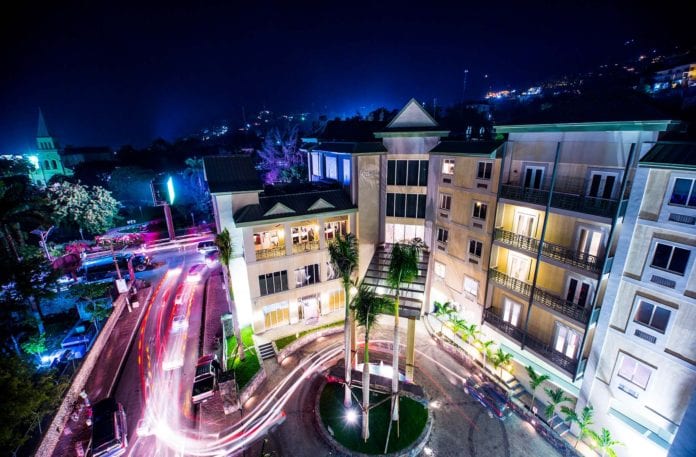 Pétion-Ville is located in the suburbs of Port-au-Prince, just to the capital's eastern edge. The city was named after Alexandre Sabes Petion, one of Haiti's founding fathers. Today, Petionville is a hub of commerce as many of the country's top businesses are located in the area.
Petionville is often known as one of the upmarket areas of Port-au-Prince. The suburban town has many nightclubs and restaurants that are frequented by locals and tourists alike. Thanks to the commerce and affluence of Petionville, the region is one of the most popular to visit when holidaying in Haiti.
Activities
Hiking
For more outdoor fun, the mountains around Petionville are perfect for hiking and trekking. You can also explore the rugged terrain via mountain bike or on horseback. Haiti's great natural landscape offers so much to do outside, you won't ever be bored.
Place Saint-Pierre
Built in the late 1800s, Place Saint-Pierre is a charming little spot to catch your breath while uncovering the wonders of Petionville. Calm, quiet and a little piece of greenery is what makes Place Saint-Pierre such a great area to spend some time.
Nightlife
Petionville has a number of great bars and restaurants to spend the evening relaxing in. Grab some delicious Haitian food or a cool cocktail after a hot day at the beach. L'Observatoire is one of the top venues to go during the day or night. The views over Port-au-Prince are mindblowing during the daytime. Asu is another of Petionville's top nightspots. The rooftop bar and restaurant gives you an exclusive movie star feel right in the heart of Petionville.
Some of the Best Hotels in Pétion-Ville
Karibe Hotel
Kinam Hotel
Royal Oasis Hotel Haiti
Best Western Premier Pétion-Ville
Hotel NH Haití El Rancho
Le Plaza Hotel
More Haiti Hotels >>>
Restaurants
Quartier Latin
Quartier Latin is a charming restaurant with an unbeatable ambience. The restaurant prides itself on serving the best seafood on the entire island. Its famed coconut ceviche is one of the most popular items on the menu. Combine the seafood with cool, refreshing cocktails, and Quartier Latin serves up some of the best food you will ever eat while traveling.
Haiku
If you are looking for something different, Haiku is Petionville's option for great Japanese food. Haiku's sushi is exquisite and the sashimi is some of the best you will find in the Caribbean; if not the best. Haiku offers visitors to Petionville something completely different and delicious.
Wedding
A number of Hotels in Pétion-Ville provide guests with everything they need for their special day in Petionville. Why not get married in the lap of luxury on a beautiful island? Guests can have everything taken care of for their wedding by the hotel of their chosen hotel.
Most hotels in Petionville can help you create a wedding that you will never forget. The hotel's staff could help you make your wedding day the most wonderful day of your life.
More Haiti Travel Guide Articles