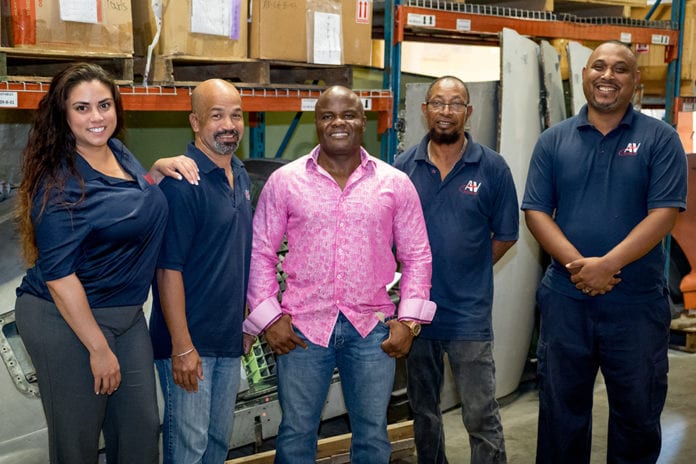 By Sarah Brutus @sarahprworldwide Photos by Smitty @smittyiproduce
Tell us about your upbringing.
I am from Haiti, born and raised in Petion-Ville. I came over to the United States when I was 16 years old. When I came here, I went to high school at Miami Central and later transferred to Miami Beach Senior High School.
What were your career plans following high school?
After high school I wanted to go to a university to become a doctor or a lawyer. Unfortunately, when I came here I came without a visa. So trying to go to school without the proper documents was nearly impossible. I had to start looking for a Plan B for my life. I was working at a restaurant during that time, but I knew that I didn't want to work in a restaurant for the rest of my life – but by the same token, I could not go to college. I was frustrated every day, wondering what I was going to do with my life.
How did you get your start in the aviation industry?
One day I came across this guy while I was playing soccer at the park, and he seemed to be a very successful guy. I started talking to him and asked him what he did for a living. He told me that he was an aircraft technician for Pan Am. I asked him the name of the school he went to and he told me it was Baker Aviation School. That happened on Sunday. On Monday, the next day, I went there to register. I didn't have a Green Card yet, but because it was a technical school the tuition wasn't sky high. So I was working at the restaurant, and then I got a second job delivering newspapers in the morning. That's how I was able to pay for and attend the technical school. That was my schedule for three years. Once I graduated, that's when my journey started in working with the airline industry as a certified aircraft mechanic.
What was your goal in working in the airline industry?
After I graduated and started working for the airlines, being a guy with a big dream, I realized that being an aircraft mechanic was not it for me. I knew there was something else I could do. So I went to school to become a pilot. I quickly realized that it wasn't for me, because I was scared of heights. So I gave up that dream. Being an aircraft mechanic was a great experience, but I knew there was more out there for me. I had bigger dreams.
Whatever business you are in, it is always a learning experience.
Tell us about your worst entrepreneurial endeavor.
I believe everything happens for a reason. After 9/11, the airline industry became extremely slow. I knew this Haitian guy who had a huge business down here in Miami doing window treatments. A few years prior, I used to work for him passing out flyers. I heard he was moving to Haiti, so I decided to buy his business from him. I bought the business and it was one of the worst things I had ever done in my life. That was my first business experience. It was a nightmare. The business shut down after a few years. But I've always believed that if you have a relationship with the Creator, he will make something happen. That is my testimony in whatever I do.
How did you become a broker in the airline industry?
In one of the last jobs for my window-treatment company, I was working in a client's home and I approached him. I said, "Hey man, you look like you are doing very well. What do you do?" He told that he owned an aviation parts company. Mind you, I had been a technician with the airline industry for many years, but I never knew about that side of the industry. He gave me his number and I met up with him. He explained to me more about what he did and said that he would give me a job as a sales rep to work on straight commission. To tell you the truth, down in my heart, the minute I met and spoke with the guy I knew that this was it. This is what I would be doing for the rest of my life. I just knew it. I targeted the French-speaking airlines in Africa and started getting business from them. I also expanded to other countries. Business really picked up from there, and I decided to go out on my own about four years ago. I am now a full aircraft parts supplier and purchase planes for parts to be resold.
What advice would you give a young entrepreneur who starts a business that fails?
Whatever business you are in, it is always a learning experience. You have to prepare your mindset. When you're starting businesses, you are going to fail. It's going to happen. You have to have the mindset to get up, dust off and start over again.