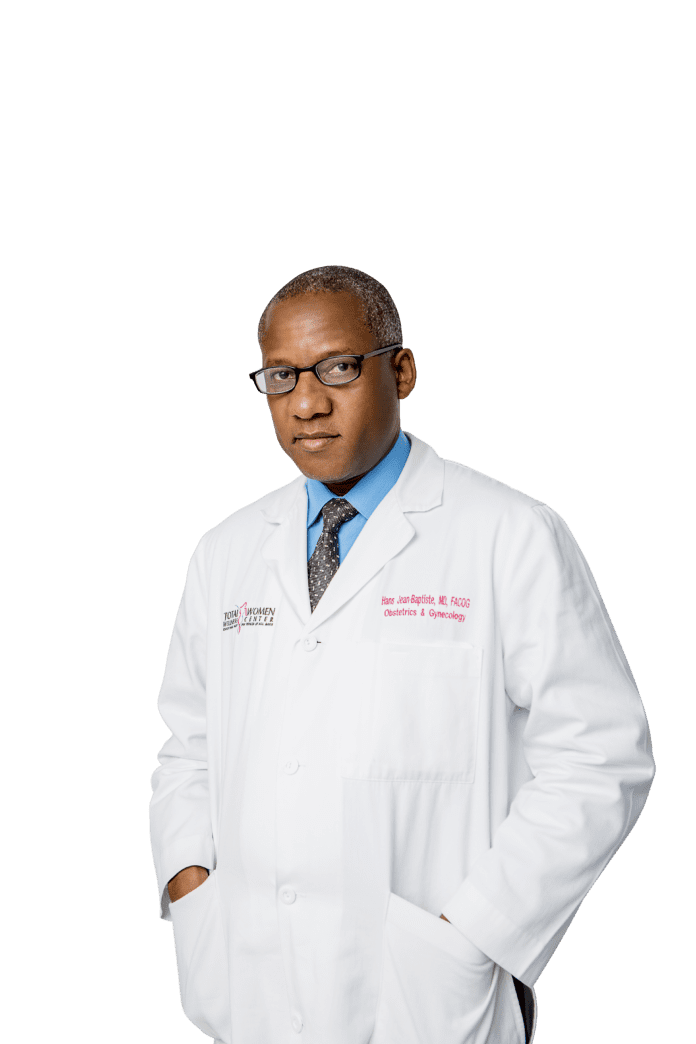 OBGYN Specialist
Dr. Hans Jean-Baptiste was born in Cap-Haitian, Haiti and is a double boarded physician in Family Medicine and in Obstetrics & Gynecology. He obtained his Medical Doctor (M.D) degree from Universite D'Etat D'Haiti in 1994 in Port-au-Prince, Haiti. After graduation, he pursued training in Obstetrics and Gynecology at the Hopital de l'Universite D'Etat D'Haiti. He was the OBGYN Physician at Hopital Universitaire of Cap Haitien, Haiti from 1998 – 2002, where he also precepted students in the Obstetrics and Gynecology Department and the Family Medicine Residency Program sponsored by the University of Miami School of Medicine. Subsequently, he was recruited to be a research associate at the University of Miami. He continues to precept students for Ross University, South University, Saint Georges University, American University of the Caribbean, Kaplan University, etc. He has travelled to many healthcare missions and sponsored various health-related activities in Haiti.
Dr. Jean Baptiste was recruited to train in Family Medicine at Howard University Hospital in Washington, DC. Following that successful assignment, he was then recruited to train in Obstetrics and Gynecology at Nassau University Medical Center in Long Island, NY. Soon after, he became an Assistant Professor of Family Medicine and Obstetrics and Gynecology at Howard University in Washington, DC. He has also imparted his skills and knowledge as a Locum Tenens OBGYN Physician at Lonesome Pine Hospital, Big Stone Gap, VA, at DELMED Health and BEEBE Health Care Hospital, Lewes, DE.
Dr. Jean-Baptiste's commitment to health care extends beyond his own practice. He works with local Hospitals in West Palm Beach, Bell Glades, etc. His passion to serve has motivated his decision to commission as an Officer in the US Army since 2006. Major Jean-Baptiste has provided care, treated, counseled and educated soldiers in numerous missions in the United States, Kuwait and other military installations around the world. This distinguished soldier has received awards for his military service, many accolades and testimonies from the US Military, his fellows in the Medical Corps, his comrades and patients alike.
He is a co-founder of Total Women Wellness Center, a cradle for exceptional Care for Women of All Ages in Miami, FL, and serves as its Chief Obstetrics Officer. Dr. Jean-Baptiste's vision to perform the highest medical standards coupled with a strong personal commitment on every patient, has been the cornerstone of his medical practice. He embodies the true characteristics of of a great doctor, providing excellent care related to pregnancy, childbirth, and the female reproductive system. He cares and counsels women throughout their pregnancy and delivery of their babies. He is also an expert in analyzing and treating health issues specific to women, such as breast cancer, cervical cancer, hormonal disorders, and symptoms related to menopause.
Dr. Jean-Baptiste's passion for Medicine is also evident in his publications in the International Journal of Gynecology and Obstetrics, World Health Organization, and various scientific circles and journals in the United States and around the World.
With a celebrated staff supporting Dr. Jean-Baptiste, you will feel at ease at in his medical practice. Visit him today or call for an appointment at (305)705-4575.
CONTACT INFORMATION:
Hans Jean-Baptiste , MD | Total Women Wellness Center
16400 NW 2nd Ave #101, Miami, FL 33169 | Web: www.totalwomenwellness.com
Phone: 305-705-4575 | E-mail: info@totalwomenwellness.com